[vc_row type="full_width_background" bg_image="7109″][vc_column][vc_column_text]
Waiting Periods For Irish Health Insurance
[/vc_column_text][/vc_column][/vc_row][vc_row][vc_column width="2/3″][vc_column_text]
Irish Health Insurance Market – New Entrant Waiting Periods
When you take out health insurance for the first time, you may have to serve waiting periods before you are fully covered, but accident and injury will be covered immediately. The maximum waiting periods are:
| | | | |
| --- | --- | --- | --- |
| Accident and Injuries | Illnesses that commence after you join | Illnesses that commence before you join | Maternity related claims |
| None | 26 weeks | 5 years | 52 weeks |
Once you serve these waiting periods you will not have to serve them again if you switch to another insurer, as long as you haven't had a break in cover of more than 13 weeks. If you switch insurers while you are serving new customer waiting periods, the amount of time served with the first insurer will be taken into account and you will finish off your waiting periods with the new insurer. You will only have to serve additional waiting periods if you switch to a plan with higher benefits. See the HIA (Health Insurance Authority) section on switching for further details.
Infants born to policy holders will not serve a waiting period if they are added to a policy within 13 weeks of their date of birth.
From 1 May 2015 a pre-existing condition is defined as:
"Pre-existing condition" means an ailment, illness or condition, where, on the basis of medical advice, the signs or symptoms of that ailment, illness or condition existed at any time in the period of 6 months ending on the day on which the person became insured under the contract.
Health Insurance Waiting Periods
VHI
| | | | | |
| --- | --- | --- | --- | --- |
| Age | Outpatient Medical Expenses | Day To Day Medical Expenses | Inpatient New Condition | Inpatient Pre-Existing Condition |
| Under 50 | None | None | 26 weeks | 5 years |
| 50+ | None | 26 weeks | 26 weeks | 5 years |
Irish Life Health
| | | | | |
| --- | --- | --- | --- | --- |
| Age | Outpatient Medical Expenses | Day To Day Medical Expenses | Inpatient New Condition | Inpatient Pre-Existing Condition |
| Under 55 | None | None | 26 weeks | 5 years |
| 55+ | None | 26 weeks | 26 weeks | 5 years |
Laya Healthcare
| | | | |
| --- | --- | --- | --- |
| Age | Outpatient Medical Expenses | Inpatient New Condition | Inpatient Pre-Existing Condition |
| Age All Groups | None | 26 weeks | 5 years |
[/vc_column_text][/vc_column][vc_column width="1/3″ css=".vc_custom_1540044889826{padding-top: 20px !important;padding-right: 20px !important;padding-bottom: 20px !important;padding-left: 20px !important;background-color: #cdebf7 !important;border-radius: 20px !important;}"][vc_column_text css=".vc_custom_1540994305370{margin-bottom: 0px !important;padding-bottom: 0px !important;}"]
Waiting Periods Documents
Please click to download our guide to Waiting Periods from the major Irish Health Insurance Companies:
---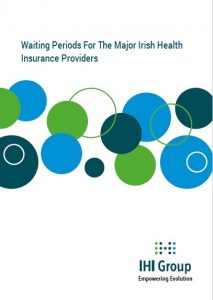 [/vc_column_text][/vc_column][/vc_row][vc_row][vc_column][vc_empty_space height="15px"][/vc_column][/vc_row]