Posted by Patrick Brennan
On October 29, 2023
0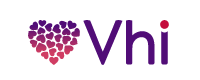 It is 24 years ago since Vhi (with the help of Designbank) last redesigned their logo and corporate identity to support the brand. It was at this time they introduced the orange swoosh and the suffix, healthcare, as in Vhi Healthcare, helping to reposition Vhi from an insurance company to a healthcare one. Now over the course of the October bank holiday weekend and the next couple of months, customers will see the existing logo replaced with a new logo comprising of lots of love hearts and a font change. Parts of the website, their member apps have changed already (www.vhi.ie) , and we will no doubt see extensive advertising over the coming months to backup the changes and to promote their services, including Vhi 360 Health Centres and their Facebook page.
Last year, Droga5 Dublin (part of Accenture Song) won the creative account for Vhi Healthcare, beating off BBDO Dublin and the incumbent Publicis Dublin – known for their distinctive animation ads. Some of Droga5's recent creative work includes: Lego, Apple Music, AIB, Electric Ireland and that lovely Christmas Story of Mrs. Higgins and the Acts of Homemaking for Woodies.
Vhi Healthcare is the largest of the 3 health insurers insuring 50% of the market excluding restricted undertakings, Laya Healthcare (bought by AXA) with just under 30% and Irish Life Health with over 20% of the market at the end of 2022. (Source: HIA: Annual Report & Accounts 2022)
PS – Just in case it is ever a quiz question, there are 24 love hearts in the new Vhi logo!